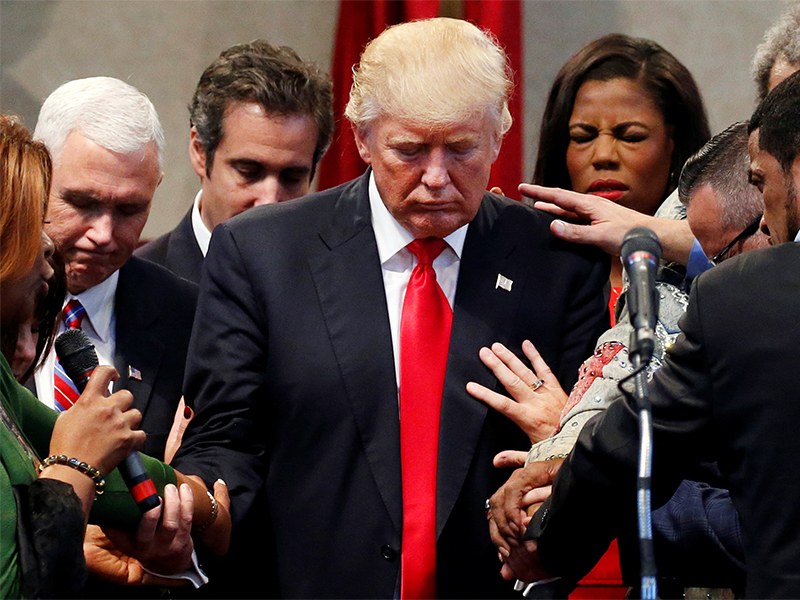 All throughout the U.S elections and campaign you'd see evangelical Christians prophesying and praying over Donald Trump. Their hearts were for him, they'd galvanize church members and fellow evangelicals to affirm him come election day. I even heard one renowned preacher say to an interview hosts; "This is not an ordinary election, it is a battle of good versus evil," he said, quickly qualifying that it was not the candidates who he referred to, but what they stood for.
And so it was, on election day, that the United States recorded the highest number of evangelical Christian voters turning out in the history of U.S. elections, sending Mr. Trump unanimously into the White House. And you could guess the media frenzy of evangelicals. Twitter feeds were full of evangelical praise, Facebook, Instagram and many more, thanking God that "good" had triumphed over "evil."
Hopefully, they believe that many setbacks to religious freedom and several liberalist agenda and advocates will wan with this incoming presidency. To be fair, perhaps the present liberalism had invoked a cause of concern in many evangelical leaders who cringed at the possible innuendo of moral anarchy that could overwhelm the country and even spill over into the world, and thus reacted as such. The choice didn't require much thought or prayer, it was so simple a choice that apprising evangelical children with a compendium of facts on a one pager will see all of them voting for Trump, it was that simple. And this abhorrence of a looming travesty and moral anarchy, soothed the minds of many clerics and evangelicals who normally will bark at a new converts peccadillo or trifle, to smile at the horrendous accusations and grand indiscretions of the candidate; of course, that is no storm compared to the coming anarchy and threat to religious freedom, and besides, who doesn't have skeletons in their closet? We all do! Moreover, he announced his acceptance of Christ during the campaign, so just hold your horses.
I am a Christian also and I celebrate the possibility of a relatively conservative supreme court appointee as I celebrate some regulations about killing the unborn. But the deal is not as easy as it seems, and even now more than ever, everyone who rejoiced over the results should cry to God the more, because several biblical examples demonstrate how God chose people in the wake of similar anarchy and corruption to correct the system and to lead the people after Him, who ended up doing the very opposite. Too many examples abound in scripture.
Israel rejoiced when Saul was made King, but it was only in his second year of reign that he went against the will and instruction of God, that made God rue choosing him. And even that wasn't enough, he still went further and adulterated himself in abominable things which God deterred. Of the combined 42 kings of Israel and Judah, both those vetoed by God, galvanized by the cry of His people and those via posthumous succession, only 1 out 6 will go on to do what God expected them to do, and surprisingly 5 out 7 will decline God's plan to pursue theirs. Finally, 1 out of 10 began by following the will of God but ended their terms opposing the very principles of the God that chose them.
The fear now however is not the nominee, now president-elect, neither is it with God, but with the voices that cried to God for an intervention and He did. It is with these men and women of great faith who have now become the watchmen of the nation, that the honors lie upon, like the Prophet Isaiah said, "I have set watchmen upon thy walls, O Jerusalem, which shall never hold their peace day nor night: ye that make mention of the Lord, keep not silence, and give him no rest, till he establish, and till he make Jerusalem a praise in the earth [Isaiah 61:6-7]." It is my prayer that these watchmen and women will not cease to intercede daily so the Lord intervenes on behalf of both the elect, the hoi-polloi and the name of the Lord. Amen.
Photo credit: religionnews, google